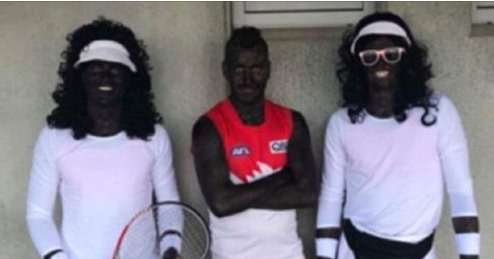 Three Australian football players are under fire for donning blackface and dressing up as Venus and Serena Williams for their end-of-season celebrations known as "Mad Monday," HuffPost reports.
The third player—they all play from the Penguin Football Club—dressed as Kenyan-born American Rules Football player Aliir Aliir.
"Some Australians still have no clue what is considered racist," Twitter user Francis Gonzalez wrote on Tuesday. "This Mad Monday "costume" is clearly racist. And I'm a person who is fed up with today's over-the-top political correctness."
It's been the second time in recent weeks that a racist incident has come out of Australia targeting one of the Williams sisters.
Penguin Football Club told HuffPost that it wasn't aware that the trio would wear blackface for their costumes, but their behavior was "unacceptable in this day and age."
The club confirmed that all three were reprimanded but their "actions were never intended to be racist in any way," adding that "all they meant to do was dress as one of their sporting idols."