Daryl Robinson filed a lawsuit against Marriott for alleged racial discrimination he experienced while working there.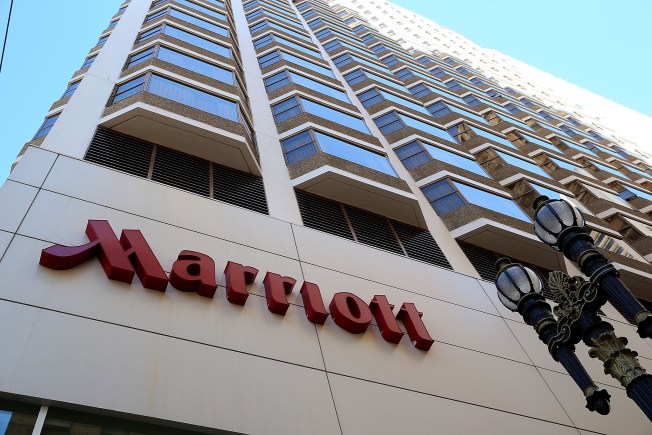 A black former sales executive for Marriott Vacations Worldwide is suing the company, alleging he was expected to dance for the benefit of other employees and subjected to a display of the Buckwheat character during the middle of a company meeting.
Plaintiff Daryl Robinson says he resigned from the company because he could no longer tolerate the working conditions. His Los Angeles Superior Court lawsuit alleges racial discrimination, failure to prevent racial discrimination and retaliation.
In the complaint filed Thursday, Robinson seeks unspecified compensatory and punitive damages. Reached Monday, Marriott spokesman Ed Kinney said he has not seen the lawsuit and had no immediate comment.
Robinson sold timeshares for Marriott vacation properties after being hired in February 2017, the suit states. He had been in the business for nearly two decades and had always excelled, his suit states.
Although promised by Marriott that he would have his own cubicle after training, he was instead assigned to a cramped storage closet with no air conditioning, the suit states. Co-workers wondered aloud if he was put there because he is black, the suit states.
Robinson was eventually given an office and the closet was converted to house vending machines, the suit states.
During sales meetings, Robinson was told by his director of sales to dance when music was being played, often to the tunes of Michael Jackson songs, the suit states.
"Mr. Robinson found this to be extremely intimidating and humiliating," according to the lawsuit.
Management began a team-building exercise by requiring employees to bring in photos of themselves as babies to see if their colleagues could guess who they were, the suit states. Robinson explained that his mother, who lived out of state, had the only photos of him at that age, the suit states.
Robinson also said that it would be pointless for him to participate in the exercise because he was the only black person in the office, the suit states.
Robinson was "shocked and in disbelief" when he saw the Buckwheat photo given that it has long been used to portray blacks in a "stereotypical racist manner," the suit states.
But the sales manager used the photo during a subsequent morning meeting anyway, asking the employees, "Who do you guys think this is?," the suit states.
Robinson walked out of the meeting and later told his two supervisors that he had to leave because the display of the Buckwheat photo was "devastating," according to the suit.
"Both apologized to Mr. Robinson as he left," the suit states.
Robinson's doctor put him on a medical leave because of his anxiety, the suit states. He returned to the job, but human resources refused to tell him the results of an investigation he demanded they take into his discrimination complaints, the suit states.