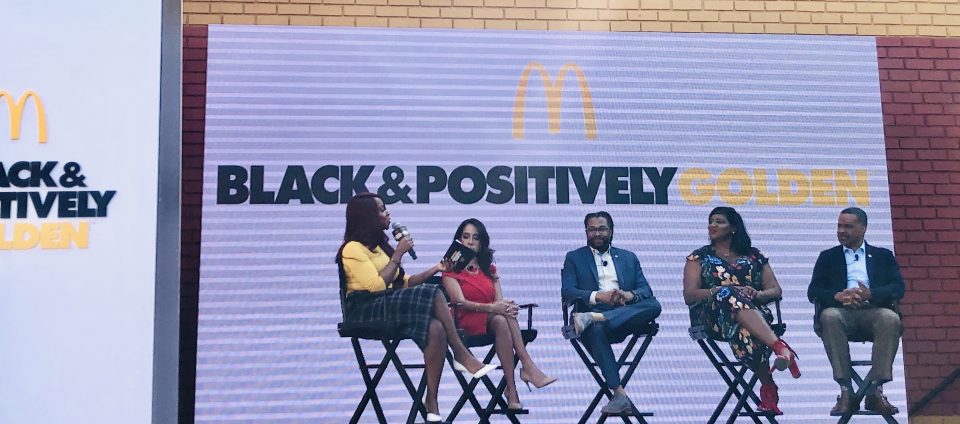 Fond memories come to mind when people think about McDonald's. For some, it's the memory of enjoying their first happy meal. For others, it's the memory of their first job. For still others, it's the memory of receiving a college scholarship. No matter what that memory is for you, what remains true is that McDonald's is a constant and a pillar in the Black community.
Today, the international fast-food giant is working to maintain that legacy and continue to provide support to the neighborhoods it serves.
On Friday, March 29, 2019, McDonald's kicked off its largest African American campaign in 16 years. The "Black & Positively Golden" campaign aims to uplift communities and inspire excellence through education, empowerment and entrepreneurship.
The celebration began with a
community
 day of fun in Los Angeles at the YWCA in Leimert Park. Hosted by journalist and on-air personality Gia Peppers, the event featured an early premiere of the new commercial spot, McDonald's food and a mural created by L.A.-based artist Enkone.
Guests were entertained with a special performance by multiplatinum recording artist Normani as well as an appearance by actress and comedienne Yvonne Orji from HBO's "Insecure."
The one-of-a-kind event brought out community leaders, including  Los Angeles City Council President Herb Wesson; Marvin J. Owens Jr., senior director of economic programs for the NAACP; and second-generation McDonald's franchisee Nicole Enearu.
"At McDonald's, we strive to connect with our customers by showing up in ways that matter to them," said Lizette Williams, the head of cultural engagement and experiences at McDonald's USA, who also spearheaded the new campaign. "Prior to launching the 'Black & Positively Golden' campaign, we spent time with our African American customer base and heard from them on what's most important. We are leveraging this platform to shine a brilliant, powerful light on Black culture and excellence in a way that matters most to our consumers."
On Saturday, March 30, McDonald's premiered the "Black & Positively Golden" campaign during the 50th NAACP Image Awards.
The campaign doesn't stop with the commercial. It will be supported through a series of events throughout 2019.  The McDonald's Inspiration Celebration Gospel Tour — set to kick off in late April— will be followed by one-of-a-kind consumer activities at this year's BET Experience and Essence Festival. In addition, several scholarships will be provided to foster educational empowerment among HBCU students through its partnership with the Thurgood Marshall College Fund.
The "Black & Positively Golden" campaign also commences a yearlong commitment to the YWCA USA, providing support for the organization's Women's Empowerment 360 Program initiative, which is designed to assist women of color who aspire to be entrepreneurs.
You can join the campaign on social media by using the hashtag #Blackandpositivelygolden and following @wearegolden on Instagram.
Click to the next page to see the McDonald's "Black & Positively Golden" campaign video, as the company shines a light on African American culture and demonstrates the power that words have to inspire Black excellence.